Integrating Conventional Medicine with Holistic Therapies
BVMS MRCVS VetLFHom CertVetAc
Principal Veterinary Surgeon
Mar has more than 18 years experience in animal care as a Conventional Veterinary Surgeon.
She has always had an interest in gentle ways of healing and has followed postgraduate studies in different disciplines within the Complementary Therapies area. In 2011 Mar started taking Acupuncture and Laser Referrals in Haslemere.
In May 2015 Mar opened the Petersfield Centre of Holistic Veterinary Medicine.
To find a bit more about Mar, click on the link above
Admin, Marketing and Design
Alan is the helping hand making everything happen, from this web site to the design and fitting of the Practice.
His vast experience in many fields has been key in getting this project forward.
At home, Mar and Alan share their lives with two cats and a German Shepherd Dog.


Petersfield Centre For
Integrated Veterinary Medicine
BVMS MRCVS CVA
Veterinary Surgeon
Cristina  qualified as a veterinary surgeon in Spain, at the University Complutense of Madrid where she completed an internship at the Equine Services.
After completing her internship, Cristina moved to the UK and has spent the last 5 years working in UK, Argentina and USA following the Polo ponies around the globe.
She obtained her Certificate in Veterinary Acupuncture and Traditional Chinese Medicine by the Chi Institute in Florida and is joining our team in August 2019 to help making this amazing form of treatment broadly available in our area.
Veterinary Receptionist
Theresa made a career change to work with animals in 2007. She has held receptionist roles at Cats Protection and in general veterinary practice.  Theresa also runs her own pet care business for cats and dogs. She has been involved in rescue work supporting Cats Protection in Farnham, volunteering at Hydestile Wildlife hospital and is working with a cat rescue charity in Sicily.
She has three cats of her own and hopes to add a dog to her family. She enjoys gardening and has a 4 year old grandson who once asked Mar for a new tail for Theresa's tail-less cat Billy!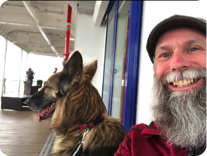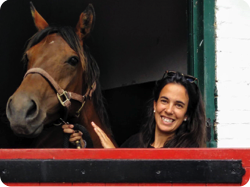 Veterinary Receptionist
Bronia has loved animals ever since her dad put her on a horse when she was 2! She grew up surrounded by cats, dogs, horses, and any stray or injured animal that made its way into their house!
She has volunteered at various animal rescue centres in the UK and around the world. One of her favourite memories is sitting with a terrified jaguar in a rehabilitation centre in Costa Rica. It eventually relaxed enough to come and lie down just on the other side of the fence to Bronia. This motivated her to qualify as an Animal Healer in 2018, and subsequently took her to Cyprus to work with distressed dogs at an abandoned rescue centre.
Bronia graduated  from Durham University in 1999 and shortly afterwards moved to Vancouver, Canada. When she returned to the UK she managed a nutritional therapy clinic (for humans) for eight years, and recently was the business manager of natural skincare company for animals.
She shares her home in Steep with her partner Pete and their beautiful rescue cat Tilly.
Bronia is now interested in studying to be a veterinary nurse, so watch this space!
Veterinary Receptionist
Lauryn is new to the veterinary world but absolutely loves animals. She Graduated from college in 2018 with a level 3 extended diploma in medical and forensic science. She has just recently moved to Steep Marsh with her family; surrounded by 
beautiful woods, Lauryn enjoys long walks with her dog, Louie. Louie is a crossbreed, Chihuahua x Whippet and Lauryn wouldn't change him for the world.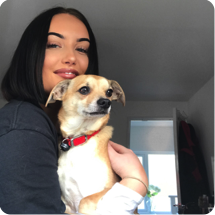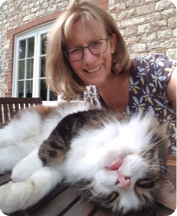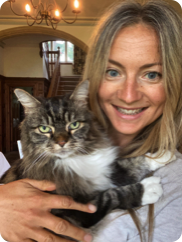 BVetMed MFHom(vet) MRCVS
Veterinary Surgeon
Susan qualified from the Royal Veterinary College in 2002 and worked in general small animal practice for 10 years.
She trained in acupuncture with the Association of British Veterinary Acupuncturists (ABVA) in 2007 and began using acupuncture alongside conventional medicines/therapies.
Susan has studied at the Bristol School of Homeopathy and gained the qualification of MFHom(vet)
She has also trained extensively in veterinary herbal medicine and is the current chairperson of the British Association of Veterinary Herbalists.
As well as treating her patients she writes holistic pet care articles and runs holistic training courses. Outside of work Susan is busy spending time with her husband, three children, two dogs, and tortoise!
Susan joins our team in August 2020 bringing a wealth of knowlegde and experience in Western Veterinary Herbal Medicine to our area