Integrating Conventional Medicine with Holistic Therapies
How to find us
We are in the High Street, at the back of number 22 (Biscoes Solicitors).
The access is through the black stable door between numbers 22 and 24 (if locked, press the Intercom labelled 'Vet' on the right), follow the cobbled path and you will find us on the left.
Petersfield Centre for Integrated Veterinary Medicine
📞 01730 858160
Opening &
Appointment times
* Regular consultations (appointment only) and Opening Hours:
Monday 09.00 to 17.00
Tuesday 09.00 to 17.00
Wednesday 09.00 to 12.00
Thursday 09:00 to 17:00
Friday 09:00 to 17:00
Saturday Closed
Sunday Closed
* Emergency Appointments Out of hours:
24h Telephone No 01730 858160
Equine Visits: Please call to arrange a time.
House Visits: Please call to arrange a time.
Services: Health Checks, Titer Tests and Vaccinations, Pet Passports, Worm Counts and Lung Worm Tests, Prescription Only Pharmacy and Over the Counter Supplements, In House and External Laboratory, Ultrasound Scan, Acupuncture, Laser Therapy, Homeopathy and Homotoxicology, Nutritional Advice, At Home Treatments, End of Life Palliative Care.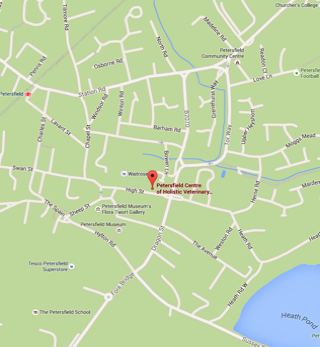 Petersfield Centre For
Integrated Veterinary Medicine